IN SINCERE APPRECIATION

Now retired, Sen. Neal thanks all who supported him in his 32 years in the upper house. He will remain engaged (see below) with the great issues, as he has throughout his life. The continuing high volume of traffic to this website reinforces and rewards that commitment. Thank you.
BREAKING NEWS AND THEN SOME—>
ON THIS DATE IN HISTORY: On April 9, 1939, world-renowned contralto Marian Anderson performed before an audience of 75,000 in front of the Lincoln Memorial in Washington, DC. She had been banned from Constitution Hall by the Daughters of the American Revolution because of her skin color. First Lady Eleanor Roosevelt promptly quit the DAR (many others followed) and arranged for her to sing in front of the statue of President Lincoln. U.S. Dept. of Interior Secretary Harold Ickx addressed the crowd. Her performance included "My Country 'Tis of Thee" and Franz Schubert's "Ave Maria." Legendary conductor Arturo Toscanini called her voice "one that comes along every hundred years." A film of the event was circulated to U.S. public schools in the early 1950's...On April 9, 1968, the Rev. Dr. Martin Luther King, Jr., was laid to rest in Atlanta, Georgia. Per King's request, his good friend Mahalia Jackson sang his favorite hymn, "Take My Hand, Precious Lord."

IN MEMORIAM



28-YEAR ASSEMBLYMEMBER BOB PRICE DIED on January 4, 2019, in Sparks, Nevada. He was 82. Go to NevadaLabor.com for updated information, a formal obituary and information on Reno and Las Vegas commemoration ceremonies. He was a close friend and trusted colleague of Sen. Neal who will take part in a remembrance of Mr. Price at César Chávez XVII on March 27, 2019, at the Grand-Sierra-Reno. May the great lawmaker and union man (IBEW 357/AFL-CIO) rest in peace after a life admirably well-lived.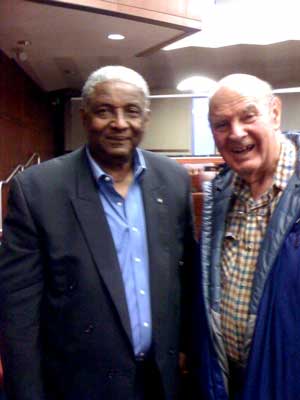 60 YEARS' WORTH OF EXPERIENCE SORELY MISSED (3-21-2011) — 32-year former Sen. Joe Neal and 28-year former Assemblyman Bob Price, both D-N. Las Vegas, back in the great halls where they belong. Sen. Neal was in Carson City to witness the introduction of the first bill sponsored by his daughter, freshman Assemblywoman Dina Neal, D-N. Las Vegas. Bob and Nancy Price, a former Nevada university regent, journeyed from their Sparks home to the capital for a noontime workers rally. (Photo courtesy of Nancy Price.)
Thank you for your prayers for Bob, Nancy and their family.
The Bob Price Legacy

Send condolences and remembrances for posting online


OF CRABS AND CLANS: White bibs or white sheets tonight
Barbwire Confidential by Andres Luis Barbáno / 2-23-2019 SPECIAL ONLINE HUSHhush E-EDITION
His own Man: Nevada Legislature learned to work with a black senator
Review of "The Westside Slugger: Joe Neal's lifelong fight for social justice"
By Dennis Myers / Reno News & Review 2-21-2019
Clarification about the review: In 2003, Sen. Neal won passage of an increase in Nevada's gambling tax on the state's largest, most profitable casinos. It has not risen since he retired in 2004.
Sen. Neal and author John L. Smith will personally autograph copies on March 27, 2019, at César Chávez XVII at the Grand Sierra-Reno.
Hot off the press: "The Westside Slugger"
The life and times biography of Joseph M. Neal, Jr.
Nevada's first African-American senator
By Nevada Press Association Hall of Famer John L. Smith
Published in January 2019 by the University of Nevada Press
NAACP Nevada Black History Month information

Happy High Holly Days to all
Merry Christmas/Kwanzaa/Solstice/Festivus/Chanukah
Hope you and yours enjoyed enthralling Thanksgibleting.
HAPPY NEW YEAR / Feliz Año Nuevo /